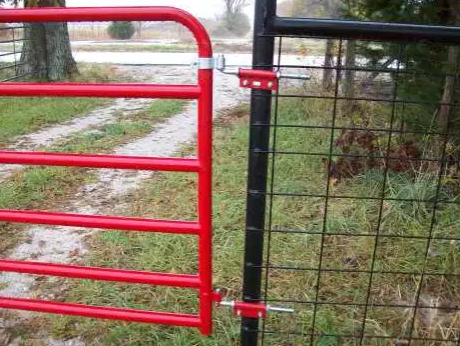 Let's discuss farm gate hardware and gate hinges.
If you have lived and worked on a ranch or farm, you would know the frustrations to keep your livestock gates, fencing sections and main farm gates secured.
Looking for an easy way to hang your farm gate without the need of additional labor, special welding, and drilling tools? Rest assure, there are special farm gate hinges to help with your gate security.
Gate hinges are a very easy way to keep your farm gates closed and best of all easy to change the height and angles when needed not like welding where it is just set in place without any versatility to make adjustments when needed.
Farm gate hinges made in the USA are designed to handle the load and abuse farm gates endure. Strong and easy to install farm gate hinges is vital to making sure your gate hinges handle the load your farm gates are put through daily.
If you are a rancher or farmer with livestock such as cattle and horses, you would know better than most the power and stress placed on your farm gates especially when tested on a daily basis when herds get all worked up and begin pushing and pressing against fencing and gates.
This is why it is important that your farm gate hinges are strong enough to handle the additional stress and pressure that is put on them on a daily basis. Farm gate hinges not durable enough can snap. This may cause you to lose your livestock, cause harm to your livestock and experience overall monetary loss.
Reliable and durable farm gate hinges need to be very strong and versatile in order to help protect your smaller livestock against an enclosure breach from potential predators. Farm gate hinges strong enough that will not give out may help keep those predators such as mountain lions, wolves, coyotes, foxes and more from getting to your families source of food and income from your smaller livestock such as chickens, hens, roosters and pigs.
In conclusion, this author feels, anyone who works in the farming industry or lives on a ranch needs to make sure that they have strong durable and versatile farm gate hinges made in the USA to protect their animals safety and investment. Therefore, make sure that your family investment is always protected and your animals are safe at all times by installing strong farm gate hinges for all the gates on the farm and or ranch.
Want more information on a 10 minute or less easy to install durable strong and versatile farm gate hinge made here in the USA?  Please visit us: https://ezhingefarmgate.com/  or Call Us Today! 417-296-5599 or Email: ezhingefarmgate@gmail.com to keep all of your gates easily secured on the farm.